The institute's facilities are spread over a sprawling lush green AKG campus in the city of Ghaziabad, an hour's drive from Delhi. The institute provides an ambience perfectly conducive to teaching, learning and research.
Campus Infrastructure
Totally pollution free, the campus boasts of tree-lined walk-ways, spacious lawns and playing fields, a well designed amphitheater, well-equipped air-conditioned classrooms and offices. The world-class infrastructure includes a modern auditorium, a well stocked library and computer centre, executive dining hall/mess, canteen, banking and postal services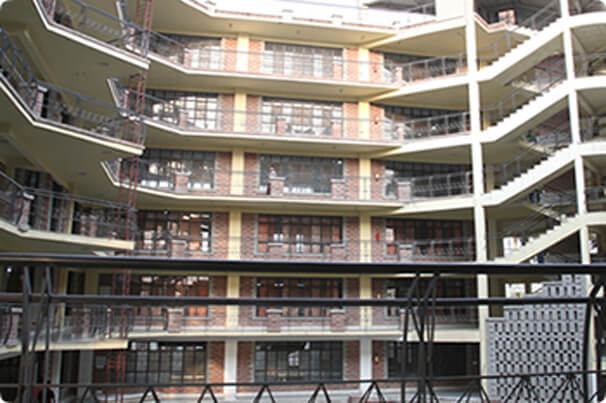 IT Infrastructure
AKGIM campus has been networked for total connectivity. The campus has got fully operational high speed Wi-Fi 24X7 10 MBPS Internet Connectivity with 6 servers. This facility rates among the best of B-Schools in the country. The facility helps students to interact online and view all the information online like grades, attendance, etc. Students can also download the handouts, lecture notes, power point presentations given by the faculty. Each classroom has been equipped with LCDs and OHPs for effective learning sessions. All the systems are backed up for power through on-line UPS. The students and faculty at AKGIM are provided with modern computing facilities.
Computer Lab
The college is equipped with air conditioned computer labs with latest state of art software and hardware. The lab remains open for the students during college hours. All the computers are loaded with original Windows operating systems. There are 24 legal application software and 14 legal system software installed in all the computers as well as the labs. At AKGIM we feel the need to improve the communication and student –teacher interaction on teaching and learning front. To facilitate this one of the labs is furnished with Clarity English Communication Software.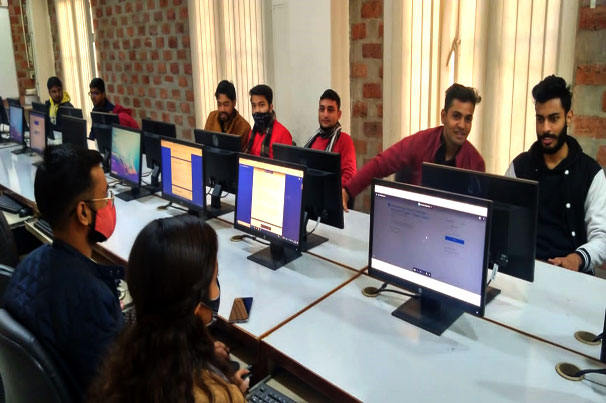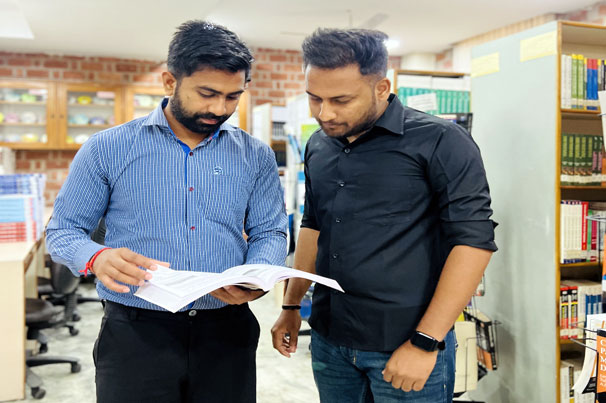 Library
Library & Information center is a backbone of academic and research activities of the institute and has been catering to the information needs of the faculty members, students, and staff and research scholars. The library is well connected on internet to facilitate access to online national and international journals, magazines, reports and projects. AKGIM has an air conditioned library centre with a large number of books along with a number of Indian, foreign journals and extensive collection of reports and projects. The library information system which operates through OPAC contains a record of all books and journals. It has online subscriptions to various journal resources. These resources are available to students and faculty for research and course work. The library also subscribes to compendiums, directories, Year Books and CD-ROMS. Digital resources on many subjects are made accessible through Greenstone Software in the Library.
Library & Information Services
The library and information services play a vital role in supporting high quality teaching and learning environment amongst students, faculty members and research scholars. The library is using integrated library automation software 'LSEase', which is capable of working in an integrated user and network environment.
Library Services
The library provides following services:
1) Membership & Registration
2) Reference Service & Assistance
3) Inter Library Loan
4) Photocopying Services
5) News-Clippings Services
6) Documentation Services
7) Organization of Technical Demonstration
8) Online Public Access Catalogue
9) CD-ROM Search Service
10) Database Searches
11) User Education
12) Current Awareness Services
Online Journals / Internet Access Facility
The library extends its services to provide access to international and national journals, online and internet facility. AKGIM library is subscribing a large number of journals through Info Trac Management Collection, Gale Cengage Learning (http://www.infotrac.galegroup.com/itweb/akgarg) and IndianJournal.com (http://www.indianjournals.com) available to the students all over the campus.
Hostel Facility
The tranquil residential facility to the boys and girls in the campus is highly conducive for research and studies. The rooms in the hostel are fully furnished with all the modern amenities. It is a home away from home to all the students. All the hostels have 24 Hr Power and Water supply. Hostels are surrounded by green open space which gives lots of oxygen rich air and a natural environment away from city hustle and bustle. The registration for hostel is done on first-come-first serve basis. Else hostel outside the campus is arranged with all facilities.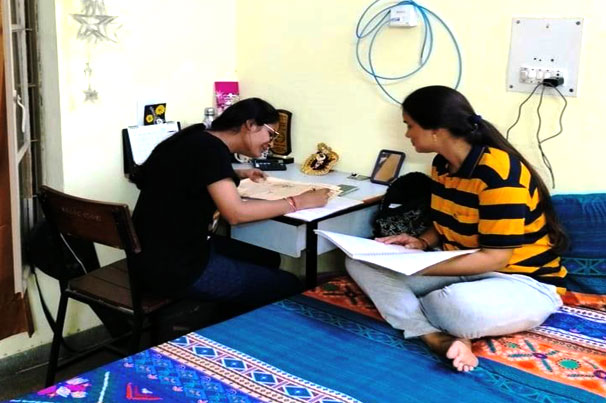 Hostel Features
The library provides following services:
1) Dining and Mess
2) 24 Hrs Power Backup
3) UV-RO Water Facility
4) Gymnasium
5) TV Room
6) Library
7) Round the clock security
8) Recreation Centre with lot many indoor games
9) Huge playgrounds for outdoor games
10) Solar heating system for uninterrupted hot water supply in winters
11) Wi-Fi Internet Facility round the clock
Medical
The college has in-campus Indo-German Hospital which boasts of a battery of qualified doctors with different specializations. The facility of medical is available 24x7 to all the students of AKGIM.